Board Portal Software – Easy to Choose
Provider
Description
Website

BoardMaps offers businesses the board meeting management software. It will not only allow holding virtual meetings but significantly improve real-life ones and the workflow of the board of directors in general. In BoardMaps, all the current issues are gathered in scope to increase visibility and make sure directors don't forget about any single matter they need to solve. This scope also eases the preparation process – the responsible member can create an agenda of the upcoming meeting, picking out specific issues from the scope. The agenda establishes a plan of the event allowing all directors to get ready for the discussion more precisely. 
iDeals Virtual Board Room is a revolutionary platform that enables improved meeting preparation and holding. As a result, the committees and executives can concentrate their attention on the programs and initiatives rather than preparation and administration. With the help of the virtual board room, the meeting is focused on making some decisions and linking them to actions.

Brainloop is an efficient solution perfect for highly confidential communication during board meetings. Basically, it is a digital platform that contributes to both simplicity and effectiveness of board communication, still adhering to the requirements of stringent compliance. The main benefits of the platform include secure and 100% efficient board communication, maximal level of protection for all the materials and uploaded documents.
Virtual Board Rooms for Business in the UK
Once you are involved in the organization, management, promotion, or administration of business or project, you need to deal with essential and fully confidential documents. Besides, communication with partners and potential investors is an indispensable part of the process. At this point, a boardroom may be an optimal variant. Generally, the communication within the virtual boardroom presupposes the management and distribution of sensitive and confidential materials, which is usually tricky with international board members. The modern market offers various solutions, but opting for a dependable and secure digital boardroom is halfway to successful collaboration. Selecting a board room, you need to pay due attention to its peculiarities and critical features. The quality board platform for conducting meetings and managing projects should be 100% safe, convenient, and protected. Easy-to-use website and online information exchange are other benefits brought by an appreciated and time-tested virtual board room. What are the main features of the board portal software you can rely on?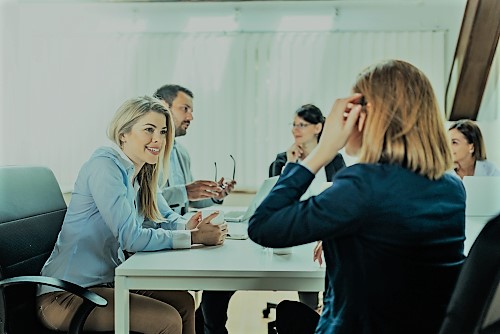 Quality platform with access to important corporate materials and documents only for boards of directors;

Available online access from the UK and other locations;

Constant updates for the board of directors software;

Reports about the activities of the board members;

Opportunity to update the board and distribute necessary pre-meeting documents and files between meetings;

Comfortable and quality communication between the management and the board;

Up-to-date corporate accountability and governance;

Simplified administrative tasks;

Ability to concentrate attention on the content and quality of the boardroom meeting rather than preparatory and administrative tasks.
Work in a completely new reality
Nowadays, more and more experts are talking about a new economic crisis. Because of the outbreak of COVID-19, businesses should adapt to 100% remote work to keep the professionals safe and to keep operating. Whole industries stop their regular activity and go online. This is one more reason to use electronic board meeting software. In essence, this product allows to perform effectively from any location, organize the workflow, and track the progress not only for board members or committees but for the teams or even the whole company.
Board meeting software advantages
Traditionally, a one-way communication pattern is typical for boardrooms, but with the introduction of new technologies and internet-based tools, two-way communication between partners became possible. Board portal serves a valuable tool, equipped with Q&A section and other options, allowing partners to share and view essential materials, including the following:
Report on risk management;

External audit results;

Resolutions and agendas;

Investor presentations;

Incentive schemes, etc.
With quality and modern board meeting software, users can access uploaded materials at any time and from any location. This feature is appreciated by international partners, as well as members who are always traveling. The exceptional flexibility of the platform and convenience of its use provide directors and managers with an ability to lead projects more carefully and effectively. The leading advantages of the virtual board room use include:
Modern encryption system and related programs decrease the risk of security violations;

Online and offline work formats that provide users with an opportunity to review documents, participate in discussions and make some notes;

Ability to access the platform safely and conveniently from any spot;

Simple search system that provides a chance to find the needed information fast.
How can the virtual boardroom protect your company from data leaks?
The Internet, just like anything in this world, has its pros and cons. It brings us endless possibilities in terms of data acquisition and exchange, interaction with others, business opportunities, and so on. But on the other hand, once you're connected to the Internet, you need to protect yourself from cyber threats. Because now you're exposed to every possible danger that can harm you, your data, and your business. Unfortunately, less than half of company owners can say with confidence that they take care of the safety of the corporate data. Most of them don't have any definite cybersecurity plans and even have no clear understanding of why should the board governance include actions aimed at the protection of sensitive files.
Why do company leaders have to safeguard corporate data?
A lot of directors don't realize that even the leak of the seemingly insignificant piece of information can cause a lot of troubles. The most critical consequence of data breaches is a financial loss. For example, in 2017, Equifax suffered from the offense, and as the damage done by the data leak became clear, it appeared that the company lost no less than $1.5 billion. But the loss of funds is no the only issue the business struggles with if a data leak takes place. The firm loses the loyalty of its customers, gains an unpleasant reputation, and now needs to spend a lot of time and effort to get the trust back and recover from the breach.
What can the board do to ensure information security?
All issues have solutions. And in the case of data safety, one of the solutions is a board of directors software. This tool will take care of both of the corporate files and communication. Moreover, it improves teamwork and makes board meetings more efficient. Board portals provide directors with a secure repository for the documents. Once files are uploaded to the online storage, they're protected by the bank-grade encryption, and all members of the leading team can access them easily. This, it becomes effortless to securely share the required information with other directors and third-parties if needed. Both the documents and data transfer ways remain protected even if the user sends a file over email. Additionally, board portal software offers a chat that is just as secure as the storage. Here directors can communicate, quickly attach required documents, and even create polls. If two team members need to talk about something privately, they can create a separate chat that will be safeguarded as well. This feature significantly improves international corporate governance and keeps even the smallest conversation hidden from unauthorized eyes.
Conclusion
Board portal software provides directors with other useful tools that allow them to plan and assign tasks, record meetings, keep track of the productivity of all teams, and many other handy business instruments. All the information registered in the virtual boardroom gets instantly encrypted and will never get into the wrong hands. Thus, using this technology, directors can be sure that at least a part of the cybersecurity plan is executed. Of course, you will need to take care of other things, too. But the data related to the board (also known as the most valuable data in the company) will be reliably protected. If you don't know where to start choosing this software, you can take a look at the board portal comparison. It will show you the criteria to consider picking a provider. Also, you will understand the difference between vendors. And when you choose one, go through board portal reviews to find out how good the provider is in reality.